Spring is upon us, and the same way the earth awakens with new life after a long dormancy, we too are ready to emerge from a long-winter indoors
and embrace the warmer days ahead with fresh excitement and energy.

Some of us may be spring cleaning our homes and planning for the new season ahead. Another great thing to clean up could be our current food choices. And take the time to assess how we can support our bodies for the activities that warm weather brings. Evaluate how you could incorporate more renewing and rejuvenating foods and leave behind any that weigh you down and don't contribute to your health. Spring is a wonderful time to bring back some mindfulness to how we are treating our bodies. Here is a list to help get you started.
Foods to embrace:
Seasonal fruits like berries, melons, and citrus
Fresh leafy greens
Wild-caught fish
Wild game-meat
Fresh herbs, like rosemary and thyme
Healthy fats like avocado and organic pastured dairy products
Foods to release:
Packaged foods
Added sugars
Processed grains
Industrial seed oils
Artificial flavors and colors
Alcohol
At the end of the day, I encourage everyone to
"love food that loves you back". The same way it is necessary to end toxic relationships, it can be necessary to let go of foods that just don't love you
back. Though it can sometimes be hard to do alone and confusing without guidance. That is why working with a health coach be extremely beneficial. But instead of me telling you, here is a testimonial from one of our participants of the 6- week super human challenge we just completed.

"I did a 6-week group class with Ashley. She is super knowledgeable, compassionate and encouraging. She listened to each of our muchvaried concerns and goals and provided helpful, specific guidance to each of us. If you need help understanding and implementing your health and wellness goals, I highly recommend Ashley."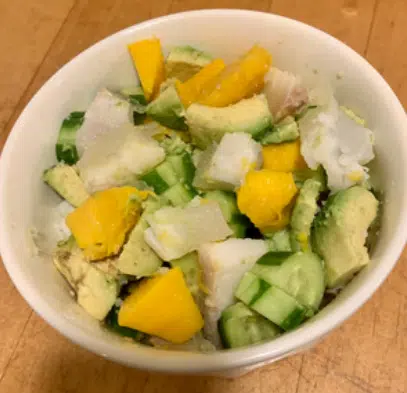 HALIBUT AND MANGO SPRING SALAD
In accordance with the article above, our food selection may change over from warming hearty foods like soups and stews to lighter
fresher foods like salads. This recipe is easy to make and assemble. Perfect for a light dinner on the porch or to take on the go for lunch.
It's full of protein, healthy fats, and sweet seasonal mango!
Ingredients
1 pound halibut filet
2 large avocados
8 mini cucumbers
4 small altufo mangos
Fresh lime and cilantro optional for flaor
Sea salt to taste
Directions
Cook the halibut either in a pan on the stove top or bake in the oven.
Once halibut is cooked, cool for a while or overnight.
Prepare salad ingredients, peel and chop mango into small cubes, chop mini cucumbers into rounds and then in half, chop avocado into cubes.
Assemble everything together and squeeze on some fresh lime juice, sprinkle on some sea salt and cilantro