There are three macronutrients we must consume for optimal health: Protein, Fats, and Carbohydrates. Of the three, protein is the most widely
under consumed. It is easy for most us to get plenty of carbs and fats in our diet, but protein is often put on the back burner when it should really
be center stage. Why all the emphasis on protein you ask? Protein does a lot more than just build muscle. Your skin, hair, nails, teeth, all of your
organs, and of course your skeletal muscle is largely composed of amino acids (what protein really is). There are nine amino acids that our bodies
do not make on their own, therefore they must be consumed through our diet. Having adequate levels of these amino acids in our bodies is crucial to
overall health and well-being. They affect energy levels, sleep quality, gut health, immune health, mental clarity, and of course, muscle recovery and
athletic performance.

That is why this nutrition tip of the month is to start every meal with protein! When creating a healthy balanced meal with carbs, fats, and
proteins, eating your protein first ensures you're preventing drastic spikes and drops (an important aspect of energy and metabolism). And lastly,
protein is so satiating that when you eat most of it at the beginning of your meal you are less likely to overeat carbs and fats.


If you are wondering what an ideal protein intake could look like for you, a great place to start is by eating a portion that is equivalent to
the size of your hand. Animal products such as meat, organ meat, eggs, dairy, and fish are the best source of protein because they contain all
nine essential amino acids. But different ratios of amino acids can also be found in tiny amounts from legumes, nuts, and seeds.

For more personalized support and guidance on improving the quality of your diet, energy, weight, and performance, please visit my Web site www.adventurewithashley.com and schedule a free consultation with me!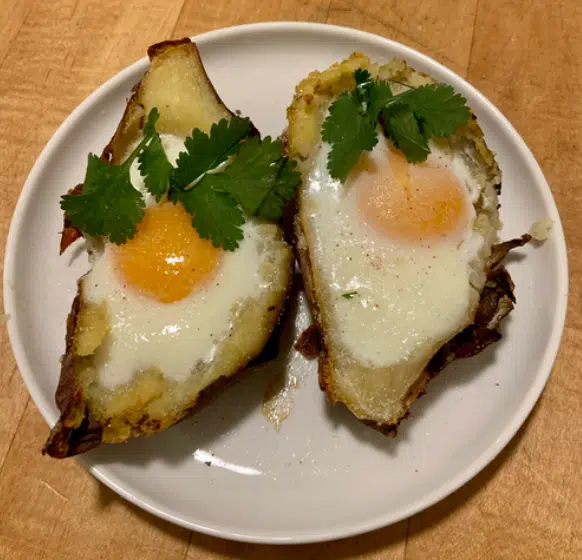 BAKED EGGS IN SWEET POTATO BOATS
Fun and easy to make, this recipe is a perfect balance of high-quality protein, nourishing fats, and wholesome carbs. Add in some
roasted brussel sprouts and bacon for an extra special homemade Sunday brunch.
Ingredients
2 medium – large fully baked sweet potatoes
2 tablespoons extra-virgin olive oil
4 eggs
1/2 teaspoon salt
1/4 cup minced fresh parsley
1/4 cup minced fresh cilantro
Optional toppings: cubed avocado, whipped goal cheese, other spices.
Directions
Preheat the oven to 375 degrees F.
Slice each cooked sweet potato in half lengthwise and scoop out enough of each inside to make room for an egg. Brush with oil inside and out.
Arrange the sweet potato in a backing dish and crack an egg into the hollow created in each sweet potato. Sprinkle with salt, then transfer to the oven. Bake for 8 to 10 minutes, until the eggs are set to your liking.
Top with fresh parsley and cilantro and any other seasonings or toppings you like.